Here are the answers to the History subject Sciences Po Paris 2013.
The first of the subjects to choose from for the history composition was :
An example of a world economy: the British world economy
For this subject, many plans are possible.
It concerns the new high school program, and proposes to study the economy of the United Kingdom as a reflection of a world economy, i.e. exemplary on a global scale.
You could treat it as follows:
I. The United Kingdom sets in motion the Industrial Revolution
A. UK industry ahead of the world
B. A country with a large financial sector
C. The United Kingdom's Foreign Trade
II. The United Kingdom: Master of the World in the 19th Century
A. British Hegemony in the World
B. The Commonwealth
III. Oppositions to the power of the United Kingdom
A. The Great Depression and the weakness of the British economy
B. Competition from European and American countries
—————————————————————————–
The other topic concerned the Algerian War, one year after the fiftieth anniversary of the Evian Agreement.
The Algerian War
For this subject, the delimitation was more restricted. Both the chronological boundaries: 1954-1962, and the geographical boundaries:
Algeria-France. Again, several plans were possible, like this one:
I. The outbreak of the Algerian War (1954-1955)
A. The particular territorial status of Algeria
B. Economic and social inequalities divide Algeria
C. The exaltation of Algerian nationalism provokes the first clashes
II. France mired in the Algerian War (1954-1958)
A. The rise of violence in Algeria
B. Battles as theaters of repression in Algeria
C. Algeria's plans for self-determination
III. The end of the Algerian war (1958-1962)
A. De Gaulle's action to end the conflict
B. Towards the Evian agreements
C. The results of the war in Algeria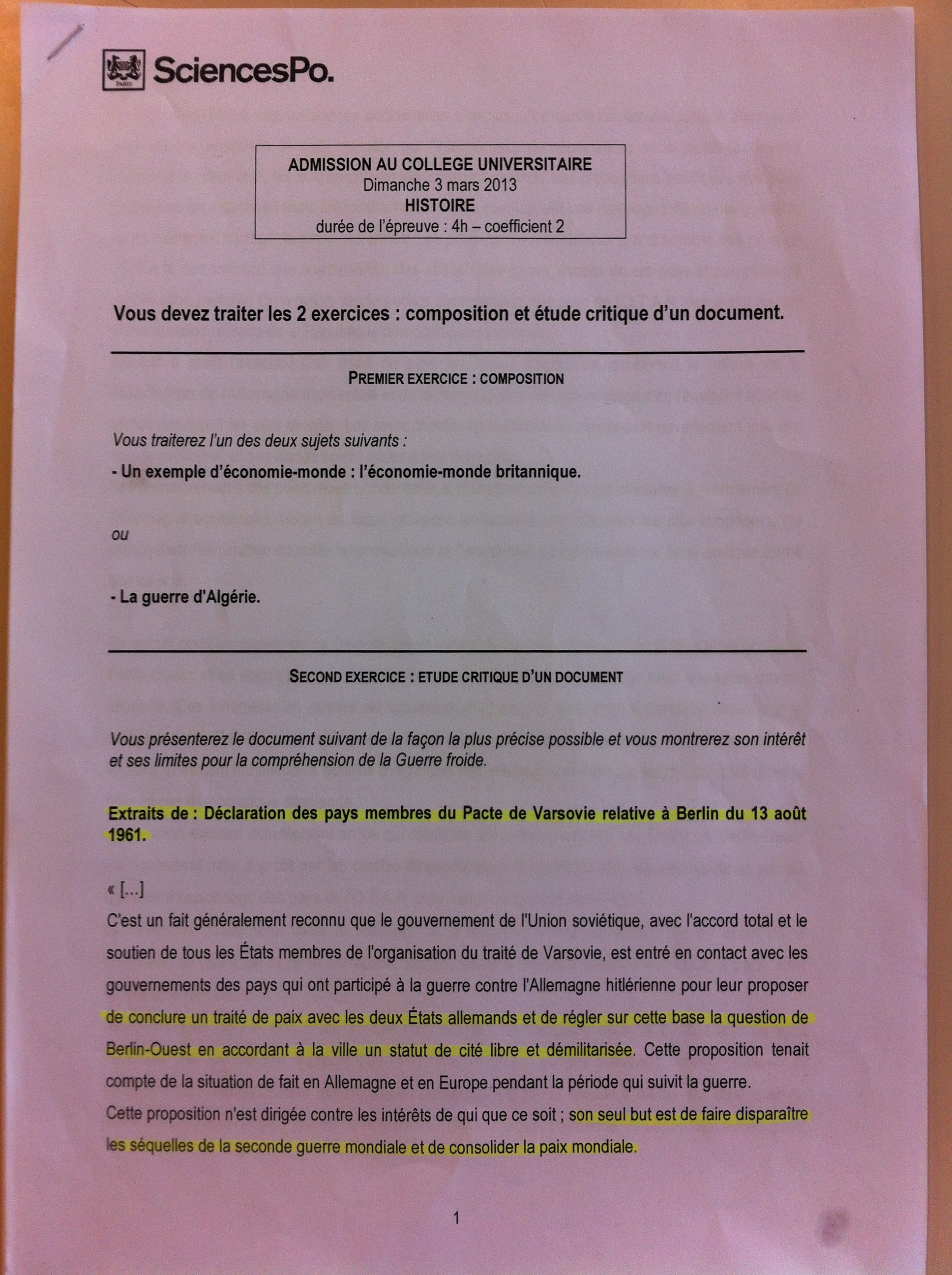 → You can also look at the answer keys for the Sciences Po 2013 competitive exams and the answer keys for Sciences Po Bordeaux 2013