A short biography of Nelson Mandela, followed by his famous quotes, an introduction to his autobiography and the film made about his life.
Nelson Mandela short biography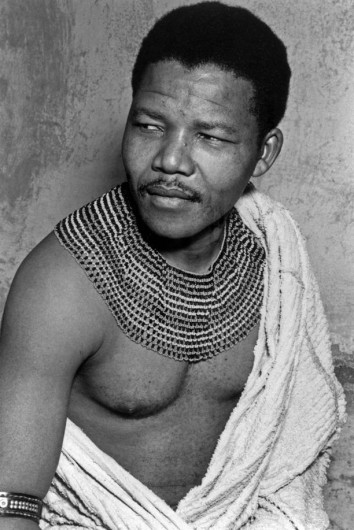 Nelson Mandela was born on July 18, 1918, in the village of Mvezo, South Africa. He was the son of a tribal chief, a member of the royal family of Thembus.
Nelson Mandela's real name was Rolihlahla, but a teacher, as was the custom and influenced by the English language, gave him the name of Nelson.
He spent his childhood in Qunu, but his father died in 1927. The regent of the Thembus adopted Nelson.
His education continued at Clarke bury College, then Healdtown High School, and finally at the University for the Black Population in Fort Hare.
In 1941, a dispute with his guardian caused him to leave his town and move to Johannesburg.
He became involved in politics, first participating in meetings held at Walter Sisulu's house. With the friends he met there, he founded in 1944 the Youth League for the ANC (African National Congress) party.
The organization advocated peaceful opposition and the abolition of apartheid laws. Nelson Mandela became head of the Transvaal ANC in 1952 and opened the first black law firm in Johannesburg.
For having written part of a "Freedom Charter", Nelson Mandela is arrested, but is acquitted.
After having four children with Evelyn Ntoko Mase, whom he married in 1944, Nelson Mandela entered into a second union in 1958 with Nomzamo Winnifred Madikizela, with whom he had two daughters.
The situation worsened in South Africa when in 1960, sixty-nine demonstrators of a dissident party of the ANC died after police repression. The ANC was banned.
Noting that the peaceful opposition was ineffective, Nelson Mandela set up Umkhonto weSizwe, or "the spear of the nation" in 1961, which fought with arms and carried out sabotage operations.
In exile to continue the fight, he travels throughout Africa and even reaches London. The press reported his exploits, but Nelson Mandela was arrested in 1962 and his comrades in 1963. He was then sentenced to life imprisonment.
While imprisoned, the group managed to continue their studies, while the protests against apartheid grew. Nelson Mandela is erected as an icon of the struggle, and his release is demanded by a large part of the population.
Despite attempts to negotiate his release, Mandela was not released from prison until 1990, when Botha was replaced by President Frederik de Klerk.
Upon his release, Nelson Mandela was elected president of the ANC in 1991. He received the Nobel Peace Prize with Frederik de Klerk in 1993 for his efforts to negotiate between whites and blacks and for his resistance to the threats he received.
His work was crowned with success in 1994, on April 27, when he participated for the first time in free elections in which both whites and blacks could run. He was elected President of the Republic a few days later, on May 9. His term of office was marked by the desire to restore a "rainbow nation", i.e. a new South African society after the end of apartheid.
Nelson Mandela died at the age of 95 at his home in Johannesburg on December 5, 2013. His funeral took place ten days later, on December 15 in Qunu.
→ Biographies to discover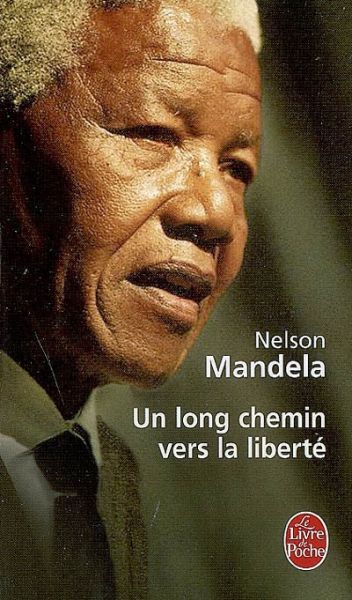 Nelson Mandela quotes
→ 50 quotes that made history in the 20thcentury
"By shining our light, we offer others the opportunity to do the same."
Nelson Mandela quote, From Inaugural Address – May 10, 1994
"None of us, acting alone, can achieve success."
Quote source: Nelson Mandela's Inaugural Address – May 10, 1994
"I have learned that courage is not the absence of fear, but the ability to overcome it."
Quote source: Nelson Mandela, A Long Way to Freedom, 1994
"It is difficult to explain to someone who is narrow-minded that being 'educated' means not only being able to read and write and have a degree, but that an illiterate person can be a much more 'educated' voter than someone who has degrees."
Quote source: Nelson Mandela, A Long Way to Freedom, 1994
"A man who deprives another man of his freedom is a prisoner of hatred, prejudice and narrow-mindedness."
Quote source: Nelson Mandela, A Long Way to Freedom, 1994
"I am not really free if I deprive someone else of his freedom. Both the oppressed and the oppressor are robbed of their humanity."
Quote source: Nelson Mandela, A Long Way to Freedom, 1994
"Politics can be strengthened by music, but music has a power that defies politics."
Quote source: Nelson Mandela, A Long Way to Freedom, 1994
"To make peace with an enemy, you must work with that enemy, and that enemy becomes your partner."
Quote source: Nelson Mandela, A Long Way to Freedom, 1994
"To be free is not just to throw off your chains; it is to live in a way that respects and enhances the freedom of others."
Quote source: Nelson Mandela, A Long Way to Freedom, 1994
→ General Knowledge Quotes
Gandhi Quotes
Margaret Thatcher Quotes
Autobiography of Nelson Mandela
Nelson Mandela wrote an autobiography, published in 1994: A Long Road to Freedom. It recounts his life from his childhood to his election as President of South Africa and his term in office.
Nelson Mandela: announcement of his death
In 2013 Nelson Mandela was hospitalized four times since December, each time for recurrences of lung infections.
These health problems could be related to tuberculosis contracted on the island prison of Robben Island, off the coast of Cape Town, where he was detained eighteen years during his struggle against apartheid.
His health condition worsened in May and especially June. According to CBS, Nelson Mandela had to be "resuscitated" on his arrival at the hospital. His liver and kidneys were only functioning at 50% and he was "unresponsive" and "had not opened his eyes for days".
Nelson Mandela turns 95 on July 18. He died on December 5 on a Thursday evening at his home in Johannesburg. His funeral took place on December 15 in Qunu.
Nelson Mandela: The Film
Based on his autobiography, a film about the life of Nelson Mandela will be released on December 18, 2013. British actor Idris Elba plays the role of the first black president of South Africa.
This short biography will have given you the essential elements to understand his long history.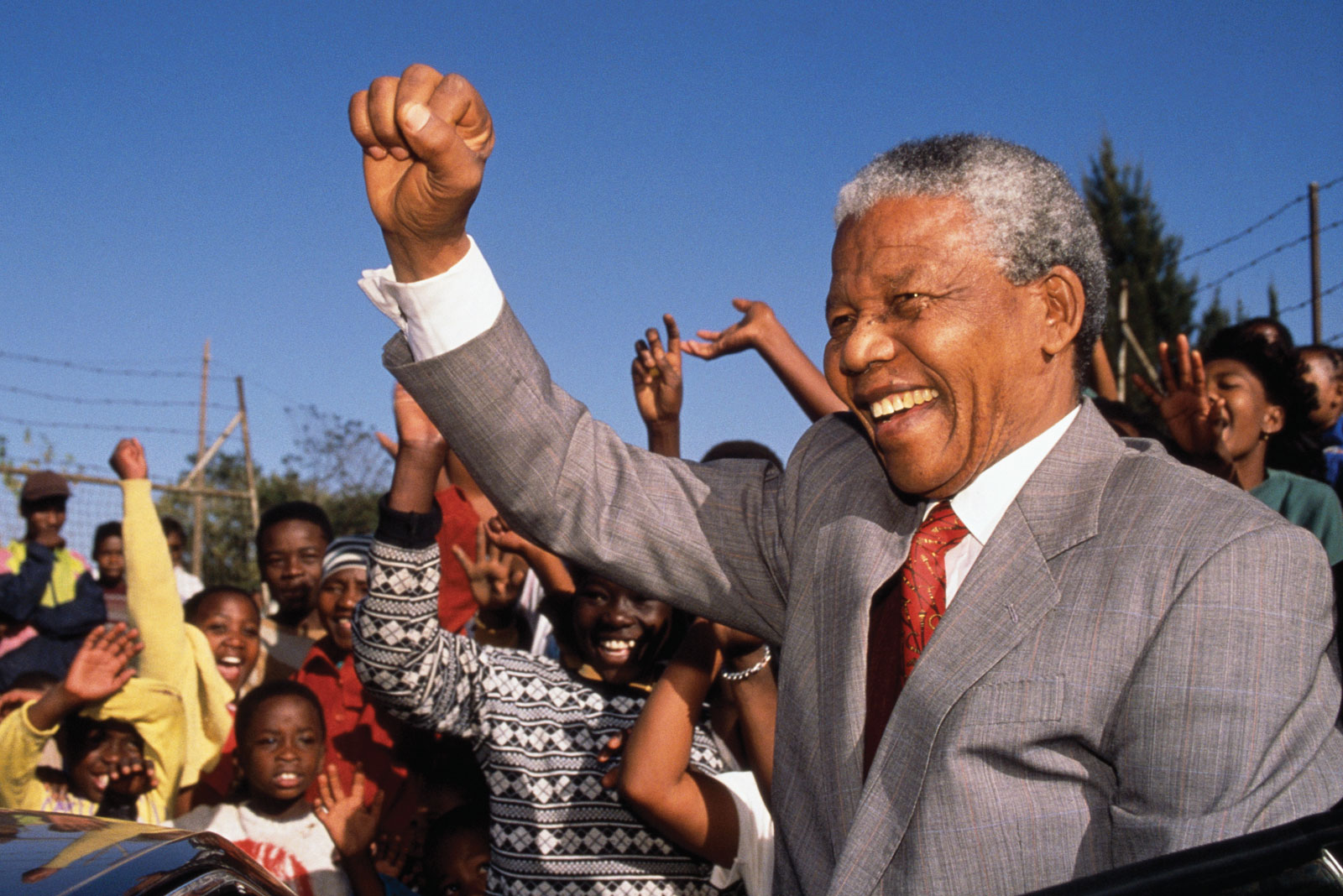 Nelson Mandela brought an end to apartheid in South Africa
→ Short biography of Hugo Chávez
→ Short biography and quotes of Rimbaud