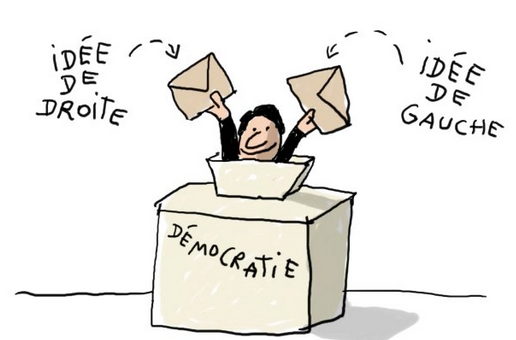 If you are a former student at Sciences Po, then you already know.
But to all those who still doubt…
Sciences Po is left-wing.
There are 10 Sciences Po in France.(You don't know the difference between Sciences Po and Sciences Po? It's here)
Who is left-wing at Sciences Po?
In these 10 existing Sciences Po establishments, the majority of the professors are left-wing.
Still within these regional Sciences Po, and even more blatantly, the students are overwhelmingly left-wing.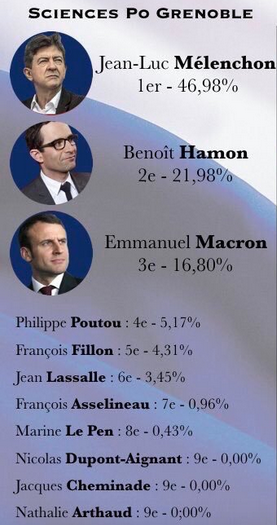 The correctors of the Sciences Po exams are mostly left-wing.
→ Understanding politics
Our sources for asserting that Sciences Po is left-wing
students' testimonies,
student union elections,
presidential election simulations,
press polemics provoked by Sciences Po students,
and finally the Sciences Po student facebook groups.
→ Personalities who have passed through Sciences Po
Example of results Presidential elections 2017 at Sciences Po
Sciences Po Lyon example:
Jean-Luc Mélenchon (32%)
Benoit Hamon (25%)
Emmanuel Macron (16%)
François Fillon with nearly (8%)
Poutou (4%)
Le Pen (4%)
Another example:
See opposite Sciences Po Grenoble.
What to do with these results
For future Sciences Po students, it is sad to say that we can only advise you to remain discreet about your political ideas until the exams, as we explain in more detail here, especially if you do not fit into this political trend.
For the curious citizen, this information should give food for thought. Is it good that such institutes have such a strong political color? Is it so negative? After all, many professions / fields of study are also marked by a political color. It is not so difficult to recognize certain trends for entire categories of professions. We invite you to share your thoughts on this question in the comments.
Also, if you have a different opinion about our findings, especially as students or professors at Sciences Po, feel free to let us know, also in the comments.
→ 100 points to find out if Sciences Po is right for YOU